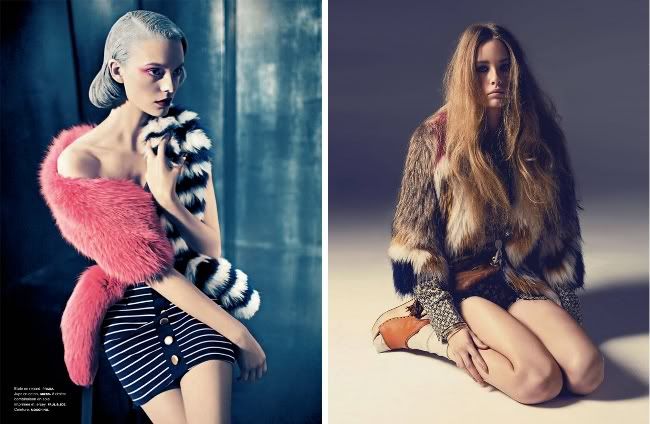 Fur is a pretty heavy issue. If your upbringing was anything like mine, you were taught that buying fur is not okay. While I have thought about vintage fur coats and whether it's okay to buy one, it never even crossed my mind to consider buying a new fur coat. And not just because they're expensive - it's just one of those lines I was taught not to cross as a kid, morally almost on par with issues like racism and environmental waste. Principles learned at a young age are the ones that stick the longest.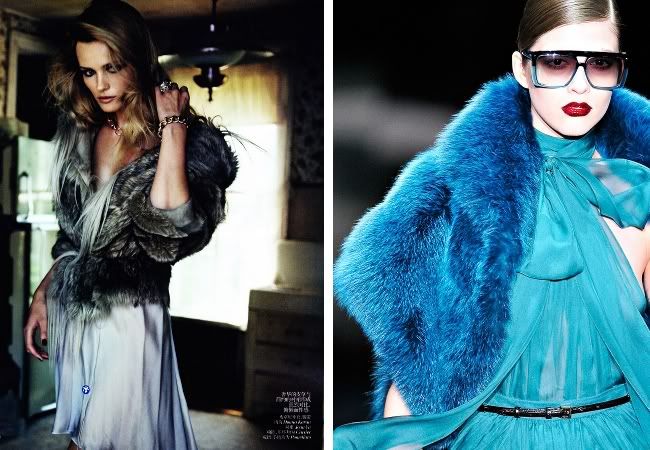 But somehow, fur is becoming okay again. Undeniably, most designers feel just fine sending glamourous fur items down the catwalk. You could of course argue that catwalks aren't necessarily representative of what people actually wear. After all, most of us can't afford to be decked out in fox, mink or sable (although we did spot a hell of a lot of fur coats in Paris). We can, however, afford fur trimmings and accessories. Fur on the hoods of coats, boots, gloves, sleeves, ... And what's the harm? After all, these small bits and scraps are castoffs of animals that were already dead. It would almost seem wasteful to throw them away - why shouldn't they be used? They're leftovers from the core industry of fur: coats and hats.
Except they're not. Fur trimmings aren't by-products. As the trade in coats declined, the fur industry turned to trim. Animals are now raised for the trim market specifically. For instance, as much as 90% percent of farm-bred foxes in the USA are killed to provide fur trim. According to FICA, the Fur Information Council of America, in 2010 the fur market accounted for $1.3 billion in trade. In the USA alone. Fur trim retail is estimated to be worth $500 million annually. Peanuts?
The problem with fur trim is that it is rarely labeled. Don't assume you're buying faux fur just because you're not paying big bucks - fur trimmings really don't come that expensive. And even when it is labeled as fur, and you have no objection to it, be very cautious: Asian cat and dog fur is known to be sometimes sold as rabbit fur. I'd suggest to thread carefully, and if you're in doubt, ask the brand for more information!